Weaken London Housing Market Increases Homes Demand in Scotland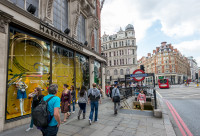 "Scotland seems to be the next stop for the UK house price boom since the outlook for the housing market in London weakens, demands for homes in Scotland takes off."
Before the fall of general elections, the British householders seem to quite reluctant to move house, according to the industry body for real estate agents, with the latest data confirming seven successive months of plummeting demand for new homes.
The latest monthly survey of RICS (Royal Institution of Chartered Surveyors) has found that the housing market of UK is to be downsizing persistently, since there are only 2pc more property professionals are anticipating the prices to increase over the next three months which since May 2013 is the slowest one.
Nevertheless, there is seen to be brighter picture showed by the RICs respondents north of the border were approx 40pc agents are forecasting the increase of price in next three months. All throughout the UK, the Scottish members of the residential property organization reported the maximum role in the demands of a new buyer which confirmed a noticeable rise.
In a RICS report, in December, there are 15pc uptick of agents registering new inquiries to a 34pc uptick in the January, as number of people start to make searches to find their home. With the newly developed Land and Buildings Transaction Tax (LBTT) that is about to be introduced in April, the first time buyers are all spurred on. It's rather cheaper with the comparison to the old stamp duty regime below the mark of £330,000.
The research also revealed that, over the next three months, 53pc more agents in Scotland expect to sales increase which is 49pc comparatively from November to December.
The chief economist at RICS, Simon Rubinsohn said that," The pending introduction of the LBTT in Scotland and stamp duty, to shifting extents are offering an incentive to the first time buyers, but there seem to be abundant challenges such as restraints of fragmentary affordability, the lack of stock and an air of vigilance in the amass to the general election.
In London, sentiment was as its lowest, where surveyors and 24pc estate agents considered that the prices of housing would fall continuously over the next three months, whereas in January,  19pc more respondents in the capital believed that the demand of the home buyer would go down in the run-up to the election. However, after the muted Christmas and New Year, there is expected to be early signs of a pick-p in housing activity across UK.
Excluding the month in which the mortgage approvals knocked out of their most minuscule level, agreed sales showed a subtle raise in January and the 12-month member foretell is more sanguine, with 48pc more agents expecting sales to increase.