A Mini Guide to London's Best Parks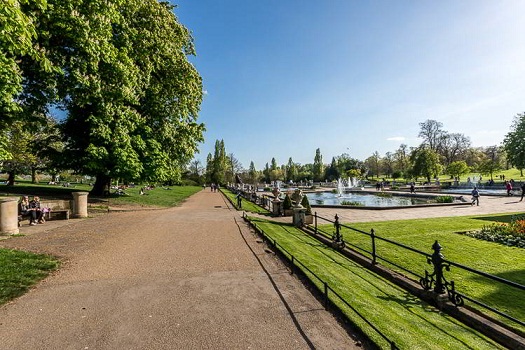 The capital of England, London is usually thought of as being the perfect paradigm of plush urban life, which is often connected with being cramped and bustling. However, the city also presents an exquisite array of dazzling gardens, which are the perfect example of outstanding greenery and architectural prowess.
Whether you want to melt that stubborn fat, wander around Mother Nature or just want to invigorate yourself, there is no better place than gardens.  Here we've compiled a list of our pick of London's best parks for a little breathing space…
Hyde Park
The lovely Hyde Park is located in the heart of London and praiseworthy enough. From swan-filled lakes to superbly trimmed parks, the vast garden catches the fancy quickly. The park is famous for yearly Winter Wonderland fest and famous concerts for young people. Moreover, the artificial lake 'Serpentine' is another major attraction. In Hyde Park you'll also find attractive water birds, lakeside cafes to satiate your hunger and good picnic spot like Rose Garden, which is perfect for children.
Regent's Park
Once known as the 'Jewel in the Crown", Regent's Park was designed flawlessly by renowned architect John Nash. Spread in 410 acres, the stunning garden is an ideal spot to witness the impishness of waterfowl and bird species. The wonderful green spot is a more formal place with fantastic recreational space, including a boating lake, sports field and zoo, which is an abode of 20,000 animals.
Greenwich Park
It's verdant, full of greenery and a well-placed haven to enjoy few moments of relaxation from the hustle and bustle of Central London. The royal garden is a home to a small flock of deer and visitors can enjoy the sweeping views of Central London and River Thames. Greenwich Park also has three cafes, public toilets and special playground for kids.
Bushy Park
When you're under stress or craving for a walk in the countryside devoid of actually travelling there, Bushy Park is the place to be. The park has the incredible ability to captivate your all senses with its chaste splendor. The park is ideal for cycling, picnics, walking or you can just lay down on the velvety soft grass and witness the grey clouds float by. Plus, you can also enjoy plenty of thrilling activities like volleyball, cricket and hockey.
Hampstead Heath
Rimmed by the North West London of Kentish Town, Hampstead Heath is another pretty place where you can enjoy generous sunshine. The hilly garden covers the vast space of 320 acres and encompasses woodland paths and fresh water ponds. A clamber to the pinnacle of Hampstead Heath's Parliament Hill endows you with the amazing views of London's eye-popping skyline, where your eyes can effortlessly spot buildings like Gherkin.
Well, we hope that this list isn't too long, but whenever you come to exotic London make sure you explore at least two or three of them.