Say thanks to your loved ones while celebrating 'Thanksgiving in London'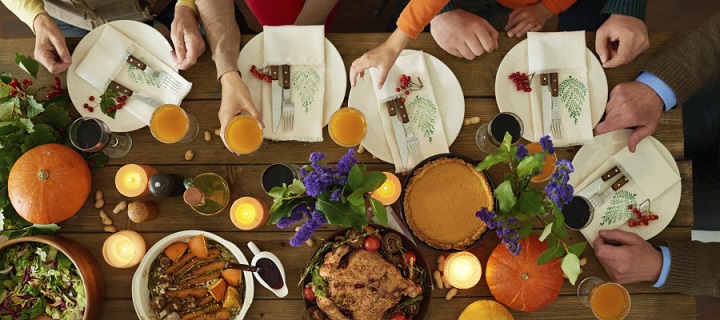 Celebrated on the fourth Thursday of November, Thanksgiving is a holiday of Americans what would fall on 26th November 2015. So it's a right time to give thanks for a generous harvest and stuff your face, in a US-Style as well as the relationships between the common individuals and harvests who give us the gifts of must-needed harvest, throughout the year.
With the huge number of US expats living in London, it's no wonder, London restaurants prefer to rejoice this major culinary festival of the states. On the eve of Thanksgiving Day in London, one can get a golden chance to enjoy the highly delectable pre-Christmas turkey dinner at some of the top notch places of the city. If you don't prefer the suggested list, you can also check out any of the restaurant celebrating the day and visit there to enjoy your favorite festival with full joy and gusto.
It's a time of the year to celebrate the Thanksgiving in London with American Fun and Food
Thanksgiving is basically an American festival, which usually falls on the fourth Thursday of the month of November and relatively, it's falling on the 26th November in 2015 which is soon to knock the door. Where in Britain it's not counted s the official holiday, a lot of American tourists and expats along with their friends, families and relatives love to mark the occasion by gathering together and enjoy the widely available range of Thanksgiving feast that is superbly amazing.
The list of festive food for Thanksgiving is extensively huge and serves the amazing varieties that one can't dare to miss out in any way. This includes chowder, Turkey, Pumkin Pie and anything that comes with the American theme. Moreover, this is also a great opportunity to throw a party for your loved ones where you can book special thanksgiving dinner in London's restaurants, hotels and pubs that serve special menus on the day. Choose to visit American restaurants in London for the American-style dining experience.
Where to enjoy Thanksgiving meals in London in an American Style?
Since Balthazar was born and raised in New York you can experience the true feel of how American eat with best culinary served on the plates including- Gingerbread-spiced cocktail which is followed by three major courses- that includes roast turkey in a traditional style served with corn fritters and orange-and-chestnut stuffing along with pumpkin cheesecake. It costs only £55 per head.
Enjoy roast turkey, cranberry jelly, roast potatoes, cornbread, mac n cheese, steamed greens, and corn on the cob. If you would love to be treated to live blues from none other than Untouchables followed by DJ sets until 1am. Book a ticket at £29.95.
Christopher's is London's most original American Restaurant that makes you (Americans) feel like home. You can enjoy wonderful cuisines at just £55 per head. Or you want to try out some Thanksgiving themed cocktail drinks, then hit art-Deco bar.
Other famous places include- Breakfast Club, Bodean's Big Easy Covent Garden, Bea's of Bloomsbury, Hix Mayfair and more.